Miller Team Adds Leadership Focused on Innovation
Fri, Sep 24, 2021 @ 12:09 PM Kerry richardson Miller Products Company, CNC, cnc machining, CNC Machined Parts, cnc machining company, custom cnc parts, iowa business, iowa manufacturing, cnc lathe, manufacturing jobs, job opening in osceola, employment, cnc job opening
After more than two decades of manufacturing process engineering and leadership, new Plant Manager, Bill Blish finds himself ready to take the reins at Miller Products Company.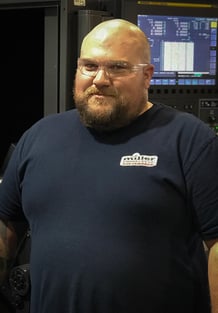 Bill comes to Miller with an extensive background in manufacturing production and management. From precision and Swiss CNC manufacturing for the Aerospace Engineering industry to leading manufacturing teams and managing a custom parts supply chain, the extent of his manufacturing management is varied, to say the least.

"We saw Bill's diverse background and systems management experience as a huge advantage," said Kerry Richardson, Miller Products Company's Sales and Marketing Manager.

Bill also brings to Miller his LEAN Manufacturing and Six-Sigma Black Belt certifications. By adding these skill-sets to an already impressive manufacturing and operations background, Miller can expect a management style that not only focuses on delivering on the expectations of their customers, but also on innovation, systematic problem-solving, and the improvement of company-wide manufacturing systems.

"I'm seeing a lot of opportunities here," said Blish. "My immediate focus will be bringing systems innovation and updated manufacturing processes to the mix to help with quality, throughput, overall safety."

The Miller Products Company team is thrilled to have Bill and his family added to their growing community. His leadership will be a welcome opportunity for process innovation and production improvement.
If you have questions, or would like to know more about Miller Products Company and the Miller team, please reach out to Kerry Richardson, Sales and Marketing manager at sales@millerprocuctsco.com or call, toll free, 1-800-245-7034.