2020 Closes On a High Note - Connecting Through Every Challenge
The Miller team would like to send out a big "THANK YOU" to all of our customers - new and old - for making a challenging year a success!
In a year of uncertainty and unprecedented challenges, Miller Products Company was able to adapt and to continue to serve their customers. Keeping their team and their clients safe was an important piece of this last year and, although the sales process looks different, the commitment to meeting supply needs doesn't.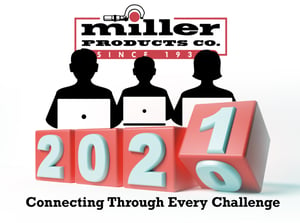 "We have always felt that there's real value in making that personal connection with our customers," said Kerry Richardson, Sales and Marketing Director for Miller Products Company. "By utilizing video conferencing tools and continuing to have a live person available to answer every phone call, we were able to maintain the standard of customer service we're so proud of."
Miller Products has always used American made materials in their custom CNC machined parts and Swiss CNC products, manufacturing an extensive catalog of pins and fasteners in their plant in Osceola, Iowa. During a time period of troubled overseas markets and massive shipping delays, Miller has had a hand in keeping many operations running smoothly.
"We source all our steel through U.S. companies and maintain a stock of production materials, so we are ready and able to pick up the slack caused by lagging supply chains," said Richardson. "By planning for growth in CNC and Swiss CNC machined parts, our current and new customers have been able to keep their operations up and running."
For more information on using Miller Products Company as your supply chain partner, or to speak directly to our sales team, contact Sales and Marketing Manager, Kerry Richardson at 1-800-245-7034, email: sales@millerproductsco.com or you can simply click the "Request A Quote" button below.