American Made Parts: Miller Answers the Call for 'The Swinger'
Wed, Aug 26, 2020 @ 12:08 PM Kerry richardson Miller Products Company, USA Made, lock pin, stainless steel lock pin, CNC Machined Parts, hitch pins, cnc pin pricing, online ordering, swiss cnc, swiss cnc manufacturing, custom cnc parts, quote for cnc parts, grade 8 lock pin, manufacturing company, heavy duty hitch pin, strong hitch pin, supply chain, shipping, bent pin
When a distributor and a fabricator team out of Pennsylvania came up with a new design for a custom, fold-away trailer hitch, they soon found themselves up against some unusual challenges. It was quickly revealed that Miller Products was uniquely positioned to meet those challenges.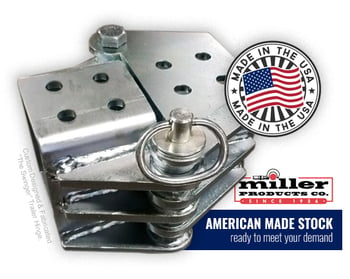 A fold-away trailer hinge allows trailer owners to fit a trailer in a garage that normally wouldn't be able to hold it. But that hinge also needs to be crafted to pull a 6000 to 9000 pound payload. One of the most popular fold-away trailer hinges, made in China, suddenly became unavailable last summer after it was pulled from the market. Made out of cast steel, the Chinese swing hinge was subject to several product failures due to worn casting. While a new cast was created in late 2019, the first shipment arrived from China in February of 2020, and the product failures continued.
That's when the distributor and fabricator team came up with the idea of re-engineering the standard fold-away trailer hitch and fabricating it rather than casting it. Within a couple weeks, master fabricator, Troy Kelosky, created a hand full of prototypes ready and 'The Swinger' trailer hinge was born. After testing, it was so well received that the team decided to begin mass producing the piece, and patent pending came through early in August 2020.
As pre-orders started coming in for 'The Swinger,' the final part was still in need of a durable hitch pin to bring the piece together. Unfortunately, every stock pin company they called was unable to help because of delays in materials to come from overseas, or the pandemic and relations with China having put a halt on shipping altogether. Then, the team found Miller Products Company in Osceola, Iowa.
Using American steel for all of their stock pins and fasteners as well as machined and Swiss CNC machined parts, Miller was well-equipped to meet the needs for the new, fabricated trailer hinge. The call came into Miller's customer service department and Kerry Richardson took the reins from there.
"We were happy to fill their hitch pin supply needs," said Richardson. "With Miller, there's no international shipping, no limited access to international parts. Miller Products is proud to manufacture in the U.S. with all-American parts."
Miller Products is unique in the CNC and Swiss CNC machining industry because they fabricate their parts using only American steel, taking international shipping and receiving out of the equation when filling orders. Stock parts can be ordered and shipped in a matter of days, and custom orders can be ready from spec to delivery in as little as three weeks.
The Heavy-Duty Hitch pin the team ordered from Miller to finish out their fabrication was exactly what they needed. Within days they were able to order and produce new parts and begin filling orders from customers across the nation. From agricultural trailers to military rigs, sea-craft trailers and more, 'The Swinger' hitch is American made ingenuity at its finest.
If you're supply of stock pins and fasteners is running short or you need to fulfill a production order being hung up with international shipping delays, Miller Products Company is ready to help.
For more information on how you can get your stock pins and fasteners ordered today, contact Kerry Richardson, Sales and Marketing Manager at Miller Products Company via email at: sales@millerproductsco.com or by calling their toll-free number at 1-800-245-7034.
Need a Custom CNC quote?
Ready to talk to the Miller team?