Associate Spotlight - Meet Miller's Resident Welding Expert: Greg Black
Greg Black joined the Miller Products team shortly after the McFarlands moved the company to Osceola, Iowa over three decades ago. He's largely responsible for the day-to-day welding maintenance but is also instrumental in the creation of the stellar pin welding jobs Miller is well known for.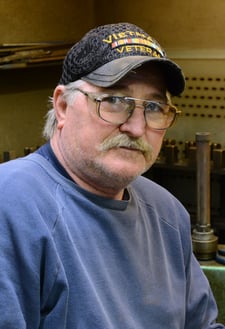 Born in Osceola, Greg moved around in his earlier years, attending Murray for a while but graduating from Clarke Community Schools. After his graduation he joined the Navy and was enrolled in Navy A-school immediately following boot camp. He became a Submarine Hull Technician, graduated second in his welding class. He was offered an opportunity to go to school in San Diego where he learned the skills for nuclear power plant welding, one of only four students out of an original thirty-two to complete the program. Greg was stationed on the USS Canopus in Holy Loch, Scotland for close to two years, spending his time creating necessary pipe fittings and working in the welding shop to keep up his qualifications.
Greg completed his tour with the Navy and worked in Norfolk, Virginia, joining the Miller team here in Osceola. Through the years, Greg has been an integral part of the Miller Products team. He was even part of the design team that created the oil boom pins used in the BP oil spill in 2010, and he continues to make valued contributions using his attention to detail and great work ethic. Greg most recently was part of the Clarke Welding Arts Sculpture Competition, mentoring a team of students and passing his knowledge and passion for the work to the next generation.
"Getting to watch those kids learn the art of welding was a great experience," said Black. "I hope they learned not just the skills involved but some pride in a job well done."
Be sure to say hello to Greg when you see him around Osceola, and join Miller Products Co. in thanking him for his decades of dedicated service.