Associate Spotlight - Miller Bids Fond Farewell to Vickie Binning
For most of her adult life, Vickie Binning has been an integral part of Miller Products. As the voice of Inside Sales Customer Service, she has seen the company and the industry change through the years, but her love of the work has stayed the same.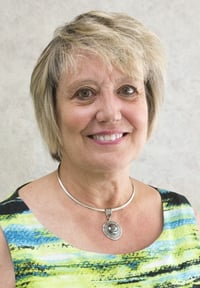 Vickie first worked for Miller as a fresh high school graduate in 1971. For three years, she drilled and clipped lock pins on the plant floor. She met her husband at Miller, and left the company for several years to pursue another career and raise her family. Looking for a change, she returned to Miller in 1987, sliding into the Inside Sales Customer Service position after two years. She's built customer relationships and watched the growth of Miller ever since.
Vickie will retire from Miller Products Company in September after 34 years in their Customer Service Department.
Through the years, Vickie has seen a lot of things change in the industry. One major change she's seen is how the speed of business has increased exponentially. When she started, she would ship three or four catalogs every day. The customer would receive the catalog, mail back their order, and they would wait for the delivery. With the availability of online ordering, she no longer ships catalogs and has seen some orders rushed through within 48 hours. But not all orders are requested through the computer.
"Some of my customers have been with me for 25 years," Vickie said. "They still call to place an order and I usually recognize their voices right away. We have never met face to face, but I consider many of them friends."
One thing that hasn't changed in her tenure at Miller is their commitment to their customers. In a business culture that truly cares about people, Miller Products has always made sure to put employees like Vickie in place who care about the customer. Finding and retaining the best talent is part of what sets Miller Products apart in the machining industry. Understanding that customers appreciate quality and outstanding personal customer service has helped their success over the more than 80 years they've been in business.
After retirement, Vickie plans to travel overseas with her husband and grandsons. An Osceola native, she will then look forward to volunteering in the community to give back to the people who have given so much to her.
"I will miss the customers and my coworkers the most, but thank them for being part of my life for the last 34 years," Binning said. "I feel very fortunate to have spent most of my adult life in these walls."