Goodwill Makes Good Sense To Miller Products Company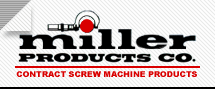 Tucked away in a nondescript building on Des Moines north side lays an organization dedicated to the betterment of individuals. Empowered by this vision, "Every person has the opportunity to achieve his/her fullest potential and participate in and contribute to all aspects of life.", Goodwill Industries manages to convert donations into opportunities for its clients.

 

You probably recognize their logo, have shopped at one of their 2500 or so stores and donated items but did you ever really know what those donations were used for? 

 

Local Goodwills are flexible and sustainable social enterprises that fund job training, employment placement services and other community programs by selling those donated clothes and household items.

Goodwill also generates revenue by contracting with businesses and government to provide a wide range of commercial services, including packaging and assembly, food service preparation, document imaging, shredding and more.

 

Last year alone Goodwill of Iowa served 1145 individuals with disabilities or barriers to employment. They placed 183 clients into jobs throughout our community.

 

Miller Products Company has long recognized the importance of Goodwill and has partnered with them in light manufacturing jobs since the 1970's. Miller/Goodwill contracts typically provide a group of Goodwill clients with 15-18 days of work per month

These contracts facilitate periods of invaluable 

training while supplying Miller Products a high quality yet flexible parts assembly team. If your company is in need of some extra hands you should consider the fine folks at Goodwill. You might be surprised at what they can do.