Bill Potts Delivers a Career-Spanning Commitment to Miller Products Co.
Tue, Jul 16, 2019 @ 09:07 AM Kerry richardson Miller Products Company, custom pin, lock pin, hitch pins, cnc machining company, custom cnc parts, quote for cnc parts, cnc manufacturing, order parts online
Miller Products has had the honor of having an employee retention rate that many manufacturers and industry leaders envy. The average employment at Miller runs in the 10-15 year range and with some employee tenure spanning generations, it's hard to think of a company that can boast the same statistics. With a Miller career that spans over 42 years, Bill Potts, Miller's Shipping and Fulfillment Manager, is just one more example of the dedication and commitment that permeates the Miller team.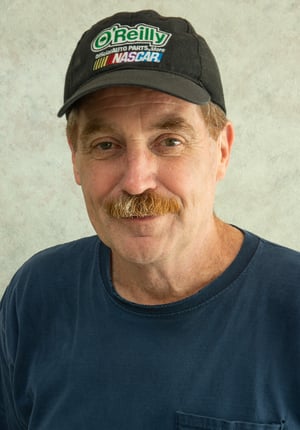 Bill Potts, by any definition is considered a "company man." Starting as a pin driller with the Miller team in 1977, Bill adapted to the detailed work immediately. But he knew working on the line was only the beginning in a growing company like Miller. As soon as opportunities for advancement were available, he pursued new positions and rose in the ranks. From drilling pins to shipping and receiving, within two short years, he found himself managing the inventory that customers received on a daily basis.
"We used to manage records and track shipping through pen and paper," said Potts, thinking back on the earlier days. "When computer inventory and digital tracking and shipping was integrated, we really saw an increase in fulfillment."
Potts credits the strength in communication at Miller for their constant growth and success. With an average vendor accuracy score exceeding 98%, they know product accuracy, order fulfillment, and on-time delivery are the linchpins of success in a very competitive industry.
When Bill isn't tracking orders and packing product, he spends time with his wife and son in Osceola, Iowa. He likes to golf when he finds time and is a big fan of music, specifically classic rock.
As Miller continues to innovate, acquiring new equipment, producing more detailed CNC machined parts including Swiss CNC manufacturing and more, Bill expects demand to increase and his department to be "quite the busy place."
From custom CNC machining and the precision of Swiss CNC manufacturing to our vast line of stock pins and fasteners, Miller Products Company strives to bring our manufacturing customers the best products, support, and service in the industry. If you'd like more information about the products or services we provide, please feel free to contact Kerry Richardson, Sales and Marketing Manager at 1-800-245-7034, or email: sales@millerproductsco.com