Caronavirus Update: A Special Message to Our Customers
Wed, Mar 18, 2020 @ 13:03 PM Kerry richardson Miller Products Company, cnc machining company, swiss cnc, swiss cnc manufacturing, custom cnc parts, quote for cnc parts, cnc manufacturing, manufacturing company, ag manufacturing, iowa CNC manufacturer, cnc manufacturer, coronavirus, covid-19, american supply chain, supply chain, american made cnc supplier
Dear Valued Customers -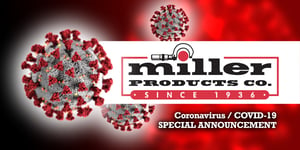 We understand the fears that many businesses and communities are suffering due to the Coronavirus and COVID-19 pandemic. With the State of Iowa declaring Public Health Disaster Emergency, we've taken our commitment to our staff, our customers, and our community into consideration.
The Miller team is a priority to us as well as the continued success of our company. We have implemented an action plan to protect employees and the business. We expect business to remain strong and trust there will be no interruption to production.
We continue to talk to our suppliers and have confidence that the materials necessary for the production and manufacturing industries we serve are plentiful and available. All Miller stock products are in inventory and all Custom CNC and Swiss CNC machined parts continue to be produced as expected.
Because of the close-knit manufacturing community we work in, Miller would like to offer other manufacturers support in answering the demand of their market with inventory and product supply as needed. We can offer support through short runs to alleviate gaps in production or fill in on complete runs if needed.
While 99% of our products are made in Iowa, with distribution and supply shipping throughout North America, if needed, we can tap our sister company, P4Swiss / Lindel Precision CNC for any additional runs or orders to help fill requests.
We trust this crisis will be over soon and have faith that our nation will be stronger and better by working together to get through it.
If you have any questions or need immediate assistance with your product order, or other manufacturing need, please don't hesitate to contact Kerry Richardson, Sales and Marketing Manager for Miller Products Company at sales@millerproductsco.com or call Toll Free, 800 245-7034.
Thank you.