Celebrating Labor Day With Our Hard Working Teams
Fri, Sep 4, 2020 @ 16:09 PM Kerry richardson Miller Products Company, USA Made, lock pin, stainless steel lock pin, CNC Machined Parts, hitch pins, cnc pin pricing, online ordering, swiss cnc, swiss cnc manufacturing, custom cnc parts, quote for cnc parts, grade 8 lock pin, manufacturing company, heavy duty hitch pin, strong hitch pin, supply chain, shipping, bent pin
Labor Day is a special holiday for the team at Miller Products Compnay. More than a long weekend or a break from the daily grind (no pun intended), we look to the celebration of Labor Day as a well-deserved recognition to all of our team members for the hard work they do.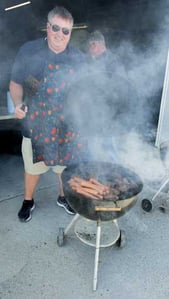 In recent months, the Miller team has worked incredibly hard to meet the demand from a burgeoning manufacturing economy. This has meant developing and on-boarding new projects for our Swiss CNC and precision machining operations. From CNC machine operators to administrative members and shipping and receiving managers, each person on the team plays a significant role in the success of our company. This Labor Day we celebrate each and every one and thank them for their commitment to our company and the service to our customers.
And, to you and all of our customers, we send out the best wishes for a relaxing Labor Day celebration. As our companies work together, growing industry, balancing our economy, and innovating for a stronger future, we thank you and all of your hard-working team members for making the Miller Products Company dream a reality.
Happy Labor Day!
We will be closed Monday the 7th of September in recognition of the Labor Day holiday.
If you have any questions or need information on stock pins and fasteners, Swiss or CNC machined parts, we welcome you to contact our sales team. You can submit a quote request directly on our Web site by clicking the button below or, if you'd like even more personal support with your order, please contact our Sales / Marketing Manager, Kerry Richardson at sales@millerproductsco.com.
We look forward to hearing from you!
Need a Custom CNC quote?
---
Ready to talk to the Miller team?