Engineering Excellence at Miller Product Company
Mon, Mar 8, 2021 @ 09:03 AM Kerry richardson Miller Products Company, USA Made, CNC, ISO Manufacturer, CNC Machined Parts, hitch pins, cnc pin pricing, cnc machining company, swiss cnc manufacturing, precision engineering, custom cnc parts, quote for cnc parts, manufacturing company, american made cnc supplier
The engineering team at Miller Products works behind the scenes on every step of every job. From working up a quote, to managing production, to quality control, Julie Long and Craig Brossard are there to ensure an efficient and cost-effective process for each customer.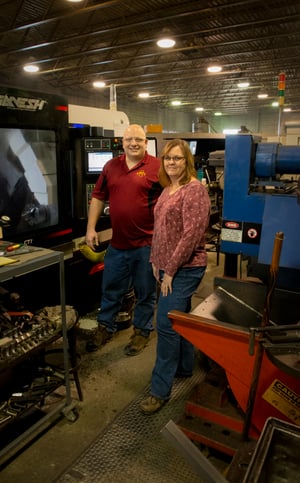 Unlike many other engineering departments, the team at Miller Products doesn't focus on the design of the parts. Clients bring in plans, and Julie and Craig work to make sure every plan is executed precisely, on time, using the best materials.
"The engineering department handles process improvement and maximizing workflow on the floor," said Kerry Richardson, Marketing and Sales Manager for Miller Products Company. "When an order comes in, they know what materials to have on hand, which machine it goes on, what tooling it needs, everything. They may not program the CNC machines, but they give the machinists all the steps."
Julie Long has been with Miller for over four years, but has been working in manufacturing much longer. With a background in designing materials like gear boxes and coating machines, she can guide customers by suggesting ways to machine the design more efficiently, and which materials will produce the best results.
"We draw the manufacturing prints, work out the best materials and machine for the workload, but that's not where it ends," said Long. "Craig and I are constantly improving processes to ensure that we meet customer expectations with every order."
Joining the Miller Products team earlier this year, Craig Bossard uses his experience running his own machine shop and acting as an independent contractor and consultant to the team. He spends much of his day researching efficiencies for machines and tooling, but also works to streamline processes for a more consistent start to every project, and setting up preventative maintenance standards.
"We're proud of our recent International Organization for Standards certification with zero non-conformances, but it's even better to put that into practice," said Bossard. "The goal is to put processes in place to make sure all systems are always running as they should. We're constantly building on preventative maintenance standards so we can be up and running every day full time to serve our customers."
In the most recent, 2021, ISO audit, the engineering team was happy to chalk up a 100% certification with zero non-conformances throughout the Miller Products organization. Their attention to detail as well as streamlining and efficiencies make for a production environment that not only saves customers time and effort, but reduces costs.
If you'd like to know more about Miller Products Company, get a custom CNC or Swiss CNC machined part quote or put in an order for any of their extensive stock pins and fasteners, please reach out to Kerry Richardson, Marketing and Sales Manager for Miller Products Company at 1-800-245-7034 or click the "Schedule a meeting" link below.
Have a unique, Swiss CNC machined product you'd like pricing on?