GIE Expo Feature: Outdoor Equipment Counts on Custom CNC Manufactured Pulleys & Axles
Mon, Oct 7, 2019 @ 11:10 AM Kerry richardson Miller Products Company, hitch pins, cnc machining company, swiss cnc manufacturing, cnc manufacturing, manufacturing company, heavy duty hitch pin, strong hitch pin, GIE+EXPO2019
The success and durability of your outdoor power equipment hinges on quality manufactured parts and service you can depend on.
With the 2019 GIE+EXPO quickly approaching, Miller Products Company will be there to show manufacturers the latest in custom CNC manufactured parts including some of the industry's top rated pulleys and axles.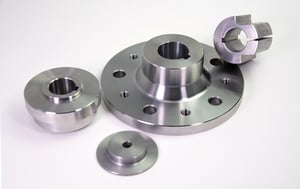 The appropriate configuration of these parts within your equipment decreases the amount of force necessary to make that equipment move. With Miller custom CNC manufactured pulleys like the ones seen in the photo to the right, you can count on the precise amount of force for your outdoor or lawn equipment while reducing stress on other components within your machine. That means longer-lasting equipment and higher productivity for your customers.

From 0.25" to 8" or more, the size and diameter parts Miller produces on our CNC machines is expansive. This allows you to engineer the most efficient equipment with the most productive results possible.

While we could go on about the tight tolerances, custom design capabilities, and specialty parts available for your outdoor power equipment, but it'd be best to sit down and talk to a Miller representative directly. The GIE+EXPO Show starts Wednesday the 16th. Come out to booth 10005 to take a look at some of the latest in custom CNC and screw machined parts and equipment and have a chat with us.
For more information on Miller Products Co, and details of our presence at the GIE+EXPO, contact Kerry Richardson, Marketing / Sales Director, Miller Products Company, 1015 N Main St. Osceola, IA 50213, 1-800-245-7034. kerry@millerproductsco.com