Happy Holidays & Bright '23 Outlook From Miller Products Company
As the holiday season approaches, we at Miller Products Company want to take a moment to reflect on the state of manufacturing and share our thoughts on what our industry can expect in 2023.
It's no secret that U.S. manufacturing has faced its fair share of challenges in recent years. From global competition to the impact of a pandemic, the industry has had to adapt and evolve to stay competitive. Despite these challenges, Miller Products Company continues to be a driving force in our local economy, providing jobs and creating custom CNC and stock pins and fasteners that are used around the world.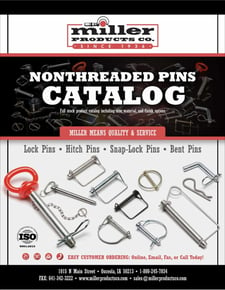 Looking to 2023, the Miller team expects to see the continued growth and development in our sector. If the last quarter of 2022 is any indication, we're looking at a very bright 2023. Advances in manufacturing technology, such as precision and SWISS CNC machining, will continue to transform the industry and create new opportunities. Building a team that has the mastery to produce excellence in an ever changing environment will be one of Miller's primary goals.
At Miller Products Company, we're excited about the future of manufacturing. We're committed to staying at the forefront of technology and innovation, and we're always looking for ways to improve and evolve our products and processes.
As we look towards the future, we also want to take a moment to thank our customers for their continued support. We know that the holiday season can be a challenging time for many, but we're grateful to be a part of a community that supports and gives back to those in need. We're proud to be a part of this U.S. manufacturing industry, and we look forward to continuing to serve our customers in the coming year.
From all of us at Miller Products Company, happy holidays and best wishes for a successful and prosperous 2023.
If you would like to discuss future manufacturing solutions or any products offered by Miller Products Company, please don't hesitate to reach out to Miller Products Company's General Manager, Kerry Richardson ,through our website: www.millerproductsco.com, e-mail: kerry@millerproductsco.com or call: 1-800-245-7034