Join Miller Products Co. At 2018 GIE+ EXPO
If you're in the outdoor power equipment industry, whether for lawn and garden, landscape, or general contractors, you're probably getting prepared for the 2018 GIE+EXPO.
Miller Products Company, a member of GIE and show attendee over the past decade and more, is excited for this year's show and seeing everyone in Louisville, KY. In just a few short days, our team will be setting up in the OEM Supplier Pavilion and ready to see the latest in outdoor products.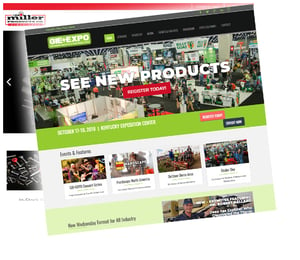 Miller Products Company has been manufacturing parts and machining equipment for the outdoor and power equipment industry for decades. From hitch and lock pins to bushings and custom machined screw parts, you're likely to find a Miller manufactured product in everything from lawn mowers, snow blowers, dirt movers and trailers, sod cutters, aerators and more seen at the show. Our decades of CNC manufacturing experience has shown to be a highly dependable asset in all of these machines. Miller Manufactured parts means stronger, longer use and quality for all of our customers.

THE GIE+ EXPO doors open Wednesday October 17th at noon and will offer outdoor equipment manufacturers and professionals three days of industry and market exposure, knowledge and entertainment. It's the show of the season, and we'll be there with bells on (or, more likely, pins in hand) early Wednesday morning through the last show and presenter on Friday. Please stop by the OEM Supplier Pavilion, Booth 10005, and say "Howdy" to the Miller Products Company team!

For more information on Miller Products Co, and details of our presence at the GIE+EXPO, contact Kerry Richardson, Marketing / Sales Director, Miller Products Company, 1015 N Main St. Osceola, IA 50213, 1-800-245-7034. kerry@millerproductsco.com