Look to the Future with Swiss CNC Machined Precision
Mon, Jun 22, 2020 @ 10:06 AM Kerry richardson Miller Products Company, CNC, CNC Machined Parts, swiss machining, what is swiss machining, swiss cnc, swiss cnc manufacturing, custom cnc parts, manufacturing company
From stock, machined pins and fasteners, Miller Products Company's leap into CNC machined parts happened early. In 1987, Miller's owner, Jack McFarland, invested in their first computer numerical controlled (CNC) machine. He quickly realized the versatility, speed, and uniformity made available through CNC machining opened new opportunities for their customers. Winning a diverse clientele and staffing the engineers needed to address the complex challenges that come with advanced CNC machining, the leap to Swiss CNC machining was inevitable.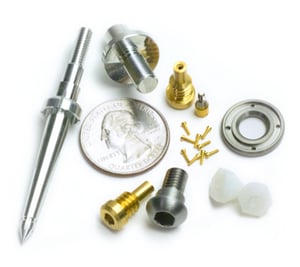 While Swiss CNC machining has long been a darling of the medical and electronics industries, recent technological advances have increased the demand for higher precision and tighter tolerances on machined runs of all kinds. Early in 2017, Miller Products Company saw these industry changes coming and quickly moved their robust CNC machining service into the Swiss market. Today, Miller provides Swiss CNC machined parts to industries ranging from medical and optical engineering to defense contractors, technology companies and more.
"We've always been focused on the future," said Kerry Richardson, Sales and Marketing Manager for Miller Products Company. "Even in our company's infancy, we were innovating for our customers and even patented our own custom parts."
Swiss CNC machining takes standard machining to an entirely new level. With consistent production tolerances of less than +/- .001" and outside diameters (OD) measuring 1.25" or smaller, Miller's Swiss CNC machined parts exceed the standards required from many industries. As an added service, Miller production also provides post machined finishing including heat treating, anodizing, and plating. ISO 9001:2015 certified, the Miller team prides itself on quality and service at every turn.

Swiss CNC machining also allows Miller customers to order in shorter runs, saving time and materials. Three-week lead times and shipping from the Miller team is standard, even on Swiss CNC machined parts. Custom or more complex orders can be shipped just as quick, depending on engineering, material, and tooling requirements.
As we move toward a more technologically advanced manufacturing landscape, the need for innovation and diversity is a must. With over 85 years of pushing the envelope of machining and manufacturing for our customers, the Miller team is continually looking for new and exciting challenges.
If you have a questions about Swiss CNC machining or Swiss CNC machined parts for your manufacturing operation, please reach out to the Miller Products Sales and Marketing Manager, Kerry Richardson at 1-800-245-7034, email: sales@millerproductsco.com or submit specifications for a quote at www.millerproductsco.com


---
Ready to talk to the Miller team?