Quality Stock Pins & Fasteners NOW... When They're Needed Most
Mon, Jun 29, 2020 @ 10:06 AM Kerry richardson Miller Products Company, USA Made, lock pin, stainless steel lock pin, hitch pins, grade 8 lock pin, manufacturing company, heavy duty hitch pin, strong hitch pin, supply chain, shipping, bent pin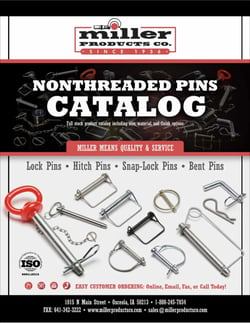 The North American manufacturing industry has taken quite a hit from the COVID-19 pandemic. With suppliers around the world closing to protect employees, as well as essential materials suppliers reducing, or even stopping shipping altogether to mitigate the spread of the virus, many North American manufacturers find themselves in short supply of some of their most basic parts - the pins and fasteners you depend on. At Miller, we know the need for on-demand parts for your manufacturing process is a priority. That's why, during this crisis, we've kept a hefty supply of all of our stock pins and fasteners ready to ship on a moment's notice to help you keep your manufacturing operations running smooth.
Ag manufacturers continue to depend on their supplies of hitch pins and lock pins from Miller Products Company. With the widest variety of options available, Miller lock pins provide unmatched durability and security. Produced in a variety of sizes and finishes, hitch pins in all sizes are a staple of the inventory Miller holds in-house. Whether your operation needs a thousand stainless steel spring swivel lock hitch pins or a handful of our heavy duty vinyl-coated hitch pins, the ability to fulfill your order with Miller product remains quick and easy.
"When it comes to getting stock parts fast," said Kerry Richardson, Miller Sales and Marketing Manager. "Ordering from Miller is like ordering from your own back yard."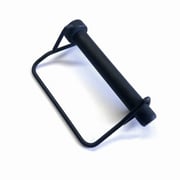 Specialty equipment for the medical industry or construction are in high demand. With supplies from overseas shrinking rapidly, the stock pins from Miller can be ordered and shipped from our Osceola, Iowa warehouse within just a few days. From our tough, Grade 8 lock pins, coated to resist corrosion and wear, to basic round and square wire lock pins, your supply chain can go uninterrupted through Miller Products Company.
Ordering your stock pins and fasteners couldn't be easier. With a full stock of products available in our warehouse, you can set up a customer account and order through our online shop 24-hours a day, 7-days a week. Or, if you have questions or a custom order, you can call or email the Miller sales team during regular business hours. Most orders can be received and shipped within just a few days, with custom order turn times taking as little as three weeks from spec to delivery.
For more information on how you can get your stock pins and fasteners ordered today, contact Kerry Richardson, Sales and Marketing Manager at Miller Products Company via email at: sales@millerproductsco.com or by calling their toll-free number at 1-800-245-7034.


---
Ready to talk to the Miller team?