Manufacturing a Brighter Future at Miller Products Company
What if we said you could kick off 2023 with an entirely new manufacturing career and build yourself a brighter future at Miller Products Company? It's a fact.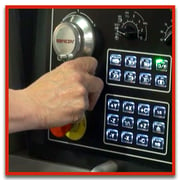 For more than 85 years, employees at Miller Products Company have benefited from the kinds of careers and job security not commonly found in the manufacturing industry. While some Miller team members are celebrating two, three, even four decades with the company, newer staffers have the opportunity to master their skills as they grow within the company by working alongside and learning from the industry's best. From single spindle/CNC and multi-spindle screw machines and on to the more advanced precision SWISS CNC machines, our operators and technicians work with a wide range of machining and manufacturing processes.
Demand for American-made parts keeps our team busy. While other industries are feeling the pinch of a slow economy and post-pandemic insecurities, our products remain in high demand through the agriculture, construction, military, and specialty contract industries. That's why we offer benefits beyond competitive pay and better hours. From 401K matching and investment opportunities to medical insurance and more, a career at Miller means you and your family are well taken care of.
Employment Opportunities at Miller Products Company
Miller Products currently has several positions open within the company. No matter your skill level, it's a good bet we have an opening that fits. From CNC internships and Machine Operators to more advanced CNC Programmers/Operators, the possibilities for a good-paying, secure career is right at your fingertips.
The first step is to click the link below to review the "Careers at Miller Products Company" page. There, you'll find a list of current job openings as well as descriptions/links to additional information. If you find an opening that interests you, just click on the "Take the next step…" button at the bottom of the page and you're on your way!
Often, the exact career you're looking for is not open or is not yet listed. If that's the case, we encourage you to check back frequently as the Careers page is updated on a regular basis.
If you have questions or need additional assistance, you can reach out to the Miller team at 1015 N Main St, Osceola, Iowa, phone: 1-800-245-7034 or email: sales@millerproductsco.com