Meet With Miller On Manufacturing Supply Chain Needs
Tue, Mar 16, 2021 @ 11:03 AM Kerry richardson Miller Products Company, CNC, CNC Machined Parts, hitch pins, cnc machining company, precision engineering, custom cnc parts, quote for cnc parts, manufacturing company, manufacturing trade show, FEMA, american supply chain, supply chain, american made cnc supplier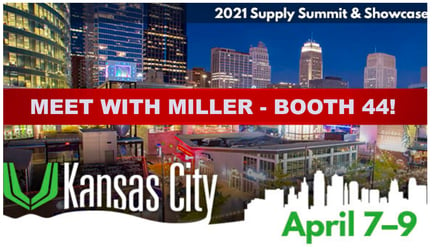 The manufacturing trade show calendar for last year was, understandably, a low point for sales and marketing departments. Many who were dependent on building relationships at these shows suffered in their absence. While Miller weathered the storm successfully by implementing a number of direct marketing efforts and developing a protocol for virtual sales and support meetings, we're excited to see the trade show schedule for 2021 starting to fill up. The first, FEMA's April 7th to 9th Supply Chain Summit & Showcase, has always been a great way to kick off the year. And this year, with nationwide supply chain challenges and industry supplier reductions, we're sure the conversations will be hot.
"We've seen a huge increase in demand for U.S. supply chain partnerships over the past year," says Kerry Richardson, Sales and Marketing Manager at Miller. "Our advantage is that we not only source locally, but we ship our stock products and custom manufactured parts, nationwide, quicker because of it."
Manufacturers across the country are struggling with sourcing and finding supply chain partners resistant to the impacts on international closures and material shortages due to COVID-19. Miller Products Company sources its steel and production material from foundries located within hours of our manufacturing plant in Osceola, Iowa – right in the heart of the Midwest. That means we not only can have material for your precision CNC, Swiss CNC and custom manufactured parts, but also supply our extensive catalog of Miller stock pins and fasteners to be shipped within time frames most manufacturers who outsource couldn't consider.
We're looking forward to "getting back out there" with all of you at this year's FEMA Supply Chain Summit & Showcase. The Miller team will be at the show with samples of our stock pins and fasteners, including a number of pieces integral in the manufacturing of agricultural equipment. We'll also have on hand samples of our screw machine manufacturing, precision CNC and Swiss CNC manufacturing components. We welcome you out to have a chat about your supply chain needs as well as how partnering with Miller can improve production quality, help with inventory control, and streamline overall manufacturing operations.
The Miller Products Company team will be at booth 44.
Farm Equipment Manufacturers Association - Supply Chain Summit & Showcase
Wednesday, April 7th through Friday April 9th
Kansas City Marriott Downtown – Kansas City, Missouri
In the meantime, for more information on using Miller Products Company as your supply chain partner, or to speak directly to our sales team, contact Sales and Marketing Manager, Kerry Richardson at 1-800-245-7034, email: sales@millerproductsco.com or you can simply click the "Request A Quote" button below.
Have a unique, Swiss CNC machined product you'd like pricing on?