Meeting Manufacturing Demand - Miller Increases Swiss CNC Machining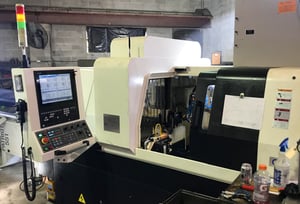 The demand for precision CNC machined parts has been on the increase throughout the manufacturing industry. Custom machinery needing smaller, more complex parts is being produced to meet consumer demand throughout agricultural manufacturing, medical manufacturing, as well as construction and military manufacturing sectors. These industries, with the surge of COVID-19 shutdowns and international shipping and production delays, are depending more on American sourced and produced parts and Miller Products Company has stepped up production, increasing its capacity to meet that demand.
In mid-November, the team at Miller Products purchased a Ganesh SL42 Y2 Swiss CNC lathe capable of not only producing more complex, custom CNC machined parts with diameters ranging from 3/4" to 1-1/2" but also to help reduce the load on Miller's Doosan TT1800SY series lathes which have been scheduled with client projects clear out into Q1 of 2021. The new Ganesh SL42 Y2 CNC machine adds to the capacity for processing 2-sided lathed parts less than 5-1/2" in length.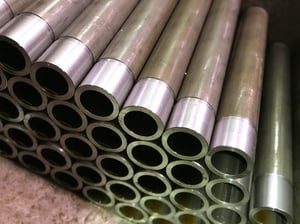 The new Swiss CNC machine was installed and has been operating on the Miller production floor since the 1st of December. With its 5-axis CNC capabilities, it also can perform deep-hole drilling, using a high-pressure cooling system that facilitates drilling depths from 15x to 20x the diameter of the part.
"The quality and precision of the parts coming off Ganesh SL42 Y2 CNC are simply incredible," said Kerry Richardson, Sales and Marketing Manager for Miller Products Company. "This will help increase our production volume as well as the capacity for meeting the industry's ever-growing demand for precision."
Miller Products Company also added a Ganesh SL32 CS series machine in October, adding to the CNC capacity for the entire plant.
With custom machined part orders increasing and precision tolerances becoming tighter, the need for machines to meet the demand is paramount. Miller Products Company plans to be there when their customers need them most. If your manufacturing operation depends on the timely and accurate fulfillment of custom, precision machined parts, Miller Products Company is ready to help.
For more information on RFQs or ordering, contact Kerry Richardson, Sales and Marketing Manager at Miller Products Company via email at: sales@millerproductsco.com or by calling their toll-free number at 1-800-245-7034.
---