Miller Delivers Precision Through Swiss CNC Machining
With over 80 years of machining products found in everything from agriculture to aerospace engineering, Miller Products Company understands the need for precision. CNC manufacturing continues to evolve with tighter tolerances, stricter customer guidelines and specifications, and higher expectations from within our own company. All of these factors have driven the need for additional machinery on the plant floor.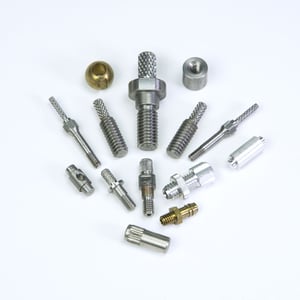 With the Ganesh SL-20Y2 lathe, added to the Miller floor in late 2017, customers can receive machined parts with tighter tolerances, increased complexity and a higher level of consistency over non-Swiss machined or stock parts. Custom machined parts - whether for prototype, mock up, short runs, or specialty products in larger manufacturing runs - can be acquired through Miller Products with a single call. Specifications and production requirements can be sent to our design and production engineers for plotting and scheduling via email or fax. Most runs have a turn time of less than three weeks.
Miller Products Company's Swiss machining provides production with:
Less than 1.25" OD

Consistent tolerances +/-.001" or less

Feature complexity

Relatively high length:OD ratio

A demand > 5,000 pieces annually

Features that can not be produced on traditional multi-spindle screw machines
The industries that benefit most from the precision of Swiss CNC Machining are:
Aerospace Manufacturing

Commercial Manufacturing

Defense Contract Manufacturing

Electronic Manufacturing

Firearms Manufacturing

Medical Machine and Equipment Manufacturing and

Optical Equipment Manufacturing
Swiss CNC Machining gives you the accuracy and detailed manufacturing production levels needed in today's competitive, high-tech markets.
If you have a product or part that requires a level of complexity and accuracy that standard lathe CNC machining just can't provide, we encourage you to call our sales department today. You can call Kerry Richardson, Miller Products Company's Sales and Marketing Manager at 800-245-7034 or email sales@millerproductsco.com to get additional information or to submit a request for proposal.