Miller Products Company: Your Stock Pin Supply Chain Resource
With the global impact surrounding COVID-19 and Coronavirus, many international distribution sources have been taken out of the supply chain. With India's strict travel restrictions, border shutdowns and their national mandate for the closure of all businesses, millions of workers and international customers have been left in the lurch for manufactured parts. Not restricted to India, suppliers in Malaysia, Thailand and others throughout the Asian continent have gone dark. That's where Miller Products Company and their supply of American-made stock pins, hitch pins and more can help.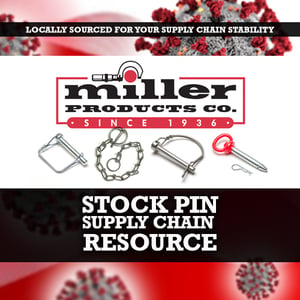 Shortly after the international shutdown, a Miller customer who orders some stock pins through a Malaysian source called with their supply chain dilemma. Through a notice sent to them from their international supplier, they realized the order of pin-lock hitch pins they use in production of their trailers was not going to be shipped. With no planned fulfillment date and short on supply, they knew the Miller team would be the call to make. With a quick look to the Miller Products Company stock pin catalog the Miller sales team was able to procure the exact pin the customer needed and have a supply shipped to them within the day.
Because Miller Products Company stock pins are made from locally sourced materials and manufactured in their plant in Osceola, Iowa, the availability and speed in which product can be shipped is virtually unmatched. From carbon steel lock pins and snap-lock pins to stainless steel and specialty coated hitch pins of all sizes, the stock products available through the Miller Products Company catalog can meet the increase in demand created by shipping closures throughout the world.
It's our goal at Miller Products Company to partner with our customers to assure the supply chain and production for their equipment is minimally impacted by this crisis. If you have a question about the fulfillment of a stock pin order or need supplies quickly, please make sure to give the sales team at Miller Products Company a call at 1-800-245-7034, or reach out to Kerry Richardson, Sales and Marketing Manager directly at sales@millerproductsco.com.
Click the button below to request a Miller Products Company Stock Pin Catalog.