Miller Products' Focus On Building Community
For over sixty years, Miller Products company has been an integral part of the community in Osceola, Iowa. Outside of employing dozens of local manufacturing professionals from around the area, Miller spends time focusing on improving the local economy, helping build a stronger workforce and more secure future for all of the south-central Iowa city.
As part of National Manufacturers Month, the Clarke County Development Corporation hosted a Manufacturer's day at Clarke Community Schools in Osceola. The Miller team quickly took lead in the program, volunteering staff and information in support. Miller's sales and marketing manager, Kerry Richardson, also spent the day talking with Clarke students about the future of manufacturing in the U.S. as well as the benefits of working with a company like Miller.

"Miller is unique in that we provide parts to other manufacturers needing to maintain quality and cost consistency," Richardson said to one group of students. "Servicing a wide variety of customers helps maintain consistent demand, offering stronger employment options for the local workforce."

Students spent the day talking about job requirements and skills needed to work at Miller as well as expectations of the job and the starting salary package for Miller employees as compared to other manufacturers. Many of the students were surprised when they learned of the industry shortage for quality programmers and designers, offering a glimpse of possible future career paths for some of those in attendance.
As founding members of the Industrial Arts Advisory Board for Clarke Community Schools, Miller also found themselves coordinating and participating in a first-of-its-kind Industrial Arts Welding Competition. This competition saw multiple teams consisting of sponsors from local manufacturers paired with Clarke students competing against each other in a judged welding sculpture event. The event took place over the month of October with multiple brainstorming, planning and strategy sessions ultimately leading to the finalé on October 26th with two dozen students and five participating manufacturers.

Miller Products provided mentors Julie Long for industrial design and Greg Black for welding and production. The team designed and coached the students through the manufacturing and fabrication process for a unique sculpture that included a plasma cut deer head, a fabricated tree trunk, flowers made from Miller clips as well as a snake intertwined throughout the piece made from an old ironing board.

"This was an incredible teaching moment for these students," said Long. "We offered guidance in the design and fabrication and these kids really stepped up to learn the processes to make the designs work."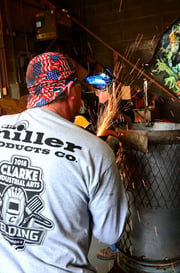 For the team at Miller Products Company, events like this are imperative to the future of manufacturing. Through mentorship, guidance, and education they hope to provide necessary skills and build interest in a career in manufacturing. By doing that the students, the community and Miller Products all win.
For more information about Miller's efforts in the community or other programs they are involved in around Osceola and Clarke County, Iowa, feel free to reach out to Kerry Richardson, Sales and Marketing Manager at sales@millerproductsco.com or call 1-800-245-7034