Miller's Varied History: MacLander: Building Opportunities & Community
Thu, Jun 29, 2023 @ 16:06 PM Kerry richardson Miller Products Company, custom pin, partnership, miller products, custom cnc parts, osceola iowa, iowa manufacturing, maclander, trailer manufacturing, trailer hitch
Miller Products Company has long been known as a highly diversified company; making a variety of parts and owning a variety of successful businesses. From their origins as a bicycle repair shop in Des Moines, Iowa to provider of computer numeric control (CNC) machined parts and stock pins and fasteners for manufacturers throughout North America, Miller's growth and evolution have always been focused on meeting the demand of their industry and leading their community with innovation.
By the mid-1970's Miller had established a booming operation in the south-central Iowa city of Osceola. There, they and saw an opportunity to diversify once again and in 1977 bought the remains of the Hyland Trailer Manufacturing Company, builders of custom trailers and tow-behind fifth wheels in which Miller's custom hitch pins and other parts played a role.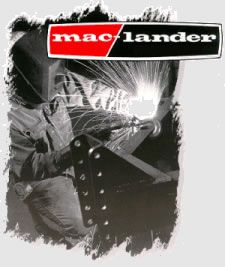 Hyland, originally started in Carlisle, IA by Bob Hyland, focused on the concept of a custom fifth wheel camper trailer as well as manufacturing a variety of stock camper frames and flatbed foundations. Hyland had big plans to move operations to Osceola and build plant, pushing into a major future expansion, but unfortunately got into financial difficulties. As the market changed, Hyland got more into commercial use truck boxes and trailers and were eventually forced to close down the camper and flatbed divisions.
Jack McFarland and the Miller management team immediately saw the opportunity to expand their manufacturing operations deeper into the market with a buyout of Hyland. Logical manufacturing tie-ins and ideal location made the purchase decision easy. In an attempt to consolidate and define their brand identity, the name was changed to MacLander (a Miller/Hylander hybrid).
For three decades after the buyout, MacLander continued providing custom trailers and fifth wheel manufacturing to the agriculture and recreational manufacturing industries throughout the Midwest. At one time MacLander employed more than two-dozen skilled machinists, welders, engineers, and staff from around the area.
In 2007, MacLander operations were sold to Salford Inc, out of Canada. Their buyout meant not only a streamlining of Miller services, but also the transition forward to precision CNC machining and building upon their catalog of stock pins and fasteners. Mores-so, the new Salford organization was able to maintain the original MacLander (Hylander) facilities in Osceola while increasing staff and operations to meet international demand.
As witnessed many times throughout their history, the Miller team not only found opportunities to support their manufacturing and industry partners, but also helped facilitate the kick-off a burgeoning manufacturing base that, to this day, serves and supports their south-central Iowa community. Miller's commitment to capitalize on manufacturing and business opportunities that build community and strength the industry continues to this day.