Promotions at Miller Products Co. – Richardson in as General Manager
For more than 14 years, Kerry Richardson has been selling the story of Miller Products Company. As Sales and Marketing Manager, he'd been leading the way, supporting customers across the nation through industry ups and downs, including the recent pandemic challenges. Each situation put in front of him simply exemplified his strengths and his dedication to the Miller team, making his promotion to General Manager a foregone conclusion.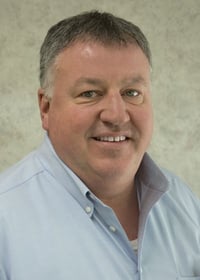 Richardson spent much of the last 18-24 months focused on meeting the rising needs of Miller's customer base. As shortages in materials as well as overseas supply chain bottlenecks threatened production nationwide, Miller answered by making strategic changes to their own production and staffing.
"The last couple years could have been a real mess," said Richardson. "But we were able to pivot for our customers, get back orders filled and handle the new demand."
With that focus, the team at Miller saw double-digit sales growth over 2020 and 2021 in spite of the pandemic. By shuffling staff and expanding CNC, Swiss CNC and additional production capabilities, backlogs were caught up and new customers were met with a much-needed supply chain solution.
"We didn't want manufacturing customers to have to slow production on account of parts shortages." said Richardson. "Many customers saw that ordering American-made had tremendous benefits."
As added value, Richardson's promotion to General Manager will also consist of him continuing his drive of Miller's communications strategies, integrating customer-support and customer-centric experiences. From the development and management of a robust CRM-driven Web site to online advertising, direct marketing, e-commerce, as well as the integration of online sales and support, Richardson will continue to develop the tools Miller customers need to meet supply chain challenges and an ever-changing manufacturing production landscape.
"No matter the technology used, marketing, sales, and support starts and ends with a personal connection," said Richardson, "As GM, it's my duty to facilitate customer connections and company growth at all points. That includes communications, marketing and sales."
Central Iowa born and raised, Richardson graduated from the University of Northern Iowa and chose to set roots in his home state. Along with successes in manufacturing and sales positions, his role as business owner and entrepreneur, as well as his Midwestern values and work ethic, Kerry continues to build on the foundation of his work at Miller Products Company.
If you would like to discuss future manufacturing and supply chain solutions or any products offered by Miller Products Company, please don't hesitate to reach out to Kerry Richardson through our Web site: www.millerproductsco.com, e-mail: kerry@millerproductsco.com or phone: 1-800-245-7034