Clarke Old Iron Tours Miller Products Co. - SCHEDULE YOUR TOUR OF MILLER PRODUCTS TODAY!
Miller Products Company hosted members of the Clarke County Old Iron on an educational tour in April.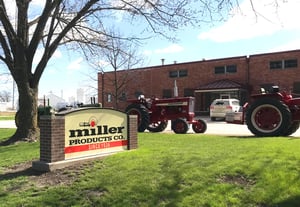 Clarke County Old Iron was formed in 1998 by a charter group of enthusiasts who wanted to share their appreciation for antique tractors with the local youth. Focusing on education and restoration, the Clarke County Old Iron membership has grown over the past twenty years from 11 original members to over 80 spread in communities over South-Central Iowa.
On April 28, eight members - and seven tractors - visited the Miller Products Company manufacturing plant for a tour of the facilities and to learn more about what Miller does and how they do it. Throughout the tour, the Old Iron members asked insightful questions and were genuinely engaged with their guide. They were attentive to all explanations and demonstrations, ready to share their newfound knowledge with other members and young people in the surrounding communities.
During the tour, the group had the opportunity to meet Miller's highly trained staff and talk with their engineers. The tour took the Clarke County Old Iron members through the whole facility where they could observe Miller Products Company's custom turning and milling machines at work. One of the highlights of the tour was the CNC (Computer Numerical Control) Swiss machining department. The CNC is an exceptionally precise and efficient machine, programmed specifically for each custom milled part ordered, ranging in size from 3 millimeters to 6 inches in diameter. With this capability, Miller Products can make the smallest and tightest tolerance parts in their history, meeting the unique needs of their clients.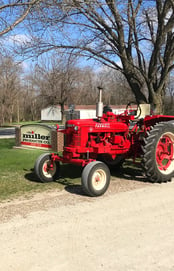 The members from Clarke County Old Iron were fascinated by the many products Miller Products machines on site and by the steps each custom design goes through. As a great educational tool, the tour taught them about the processes for creating lock pins, hitch pins, single- and multi-spindle screw machined pins as well as heat treating and other plating processes used in the Miller plant. Since the group focuses on restoring and maintaining antique tractors, they enjoyed learning about how Miller makes the parts used to hold their tractors together year after year.
Miller Products Company is always ready and willing to show off their manufacturing facility and to educate the community about what they make and how they continue to make the best in the industry.
Would you or your group like to tour the Miller Products facility? Give us a call at 800-245-7034 or reach out through our Contact page to schedule your visit!