U.S. Manufacturing Looks Forward to Expanding Markets
Mon, Aug 17, 2020 @ 08:08 AM Kerry richardson Miller Products Company, USA Made, lock pin, stainless steel lock pin, CNC Machined Parts, hitch pins, cnc pin pricing, online ordering, swiss cnc, swiss cnc manufacturing, custom cnc parts, quote for cnc parts, grade 8 lock pin, manufacturing company, heavy duty hitch pin, strong hitch pin, supply chain, shipping, bent pin
The global pandemic has had an impact on every sector of the economy, including manufacturing. Since March of this year, the Institute of Supply Management (ISM) Manufacturing Purchasing Managers Index (PMI) Report on Business has seen scores below 50, indicating a downswing in the economy. But since June, things have begun to change.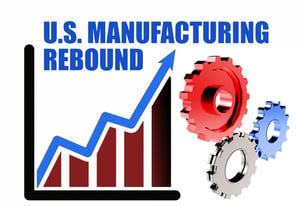 The ISM Manufacturing PMI is a compilation of data from purchasing and supply executives in over 400 industrial companies. Each month, they are given a questionnaire regarding several measurable indicators: New Orders, Backlog of Orders, New Export Orders, Imports, Production, Supplier Deliveries, Inventories, Customer Inventories, Employment, and Prices.
"In a move for security and stability, people have been pulling from their stock," said Kerry Miller, Sales and Marketing Manager at Miller Products Company. "Now that their stock is depleted, the manufacturing industry is going to see a big uptick."
Miller Products is ready to replenish your inventory of stock pins and fasteners for your operation or to supply you with custom CNC and Swiss CNC manufactured parts, with stock orders seeing a quick turnaround of 3 weeks or better. Working with Miller Products, you can count on American-made, quality machined parts, manufactured from all-American steel, and excellent customer service at every step.
Our sales and support team is prepared to talk with you over Zoom or via phone at 1-800-245-7034. You also have the option to schedule a meeting with Kerry Richardson, the Sales and Marketing Manager, through the Web site by clicking the button below.
Together we can keep America's great manufacturing industry running. We look forward to doing business with you.
Need a Custom CNC quote?
Ready to talk to the Miller team?