Unlocking Superior Performance: Grade 8 Finished Lock Pins from Miller Products Company
In 2018, Miller Products Company proudly introduced its Grade 8 finished Lock Pins precision-engineered machined parts coated with a grade 8 finish. Designed to surpass stainless steel and standard zinc finishes, these lock pins offer a multitude of benefits for manufacturers throughout the agriculture, construction, outdoor machine manufacturing and other industrial markets. In the past 5 years, Miller's Grade 8 Lock Pins have proven their value in manufacturing industries across the nation. Let's explore the key advantages that make Grade 8 finished Lock Pins the ideal choice for your applications.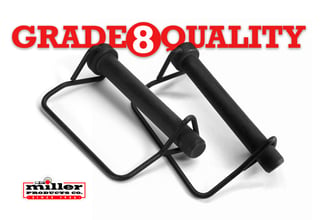 Unrivaled Strength and Durability:
Miller Products' Grade 8 finished Lock Pins are crafted to deliver unparalleled strength and durability. The grade 8 finish provides exceptional resistance to wear, corrosion, and impact, ensuring a longer lifespan even under harsh operating conditions. By using these lock pins, you can reduce downtime and maintenance costs, while increasing the reliability and longevity of your equipment.
Enhanced Performance and Safety:
When it comes to heavy-duty applications in manufacturing, reliability and safety are paramount. The Grade 8 finished Lock Pins offer superior load-bearing capacity, minimizing the risk of premature failures or accidents. With their high tensile strength, these lock pins provide secure fastening, keeping your machinery and equipment operating at peak performance while ensuring the safety of your operators and assets.
Precision Engineering and Versatility:
Miller Products Company takes pride in its precision engineering capabilities, and the Grade 8 finished Lock Pins are a testament to their dedication. These lock pins are meticulously machined to tight tolerances, guaranteeing a perfect fit and alignment. With their versatile design, they can be seamlessly integrated into a wide range of applications, including agricultural machinery, heavy-duty equipment, and industrial assemblies in all kinds of environments.
Cost-Effective Solution:
Choosing Grade 8 finished Lock Pins can lead to significant cost savings in the long run. Their superior durability reduces the frequency of replacements, minimizing downtime and associated expenses. Additionally, the high resistance to wear and corrosion eliminates the need for frequent maintenance and coating touch-ups. By investing in these lock pins, you benefit from a cost-effective solution that maximizes productivity and minimizes operational costs.
Expert Support and Customization:
Miller Products Company understands that every customer's requirements are unique. Their team of experts is committed to providing personalized support and tailoring solutions to meet your specific needs. Whether you require custom dimensions, variant coatings, or specialized features, they will work closely with you to ensure your machined parts precisely match your application requirements.
For more than 87 years, the Miller team has provided the strength to keep manufacturing moving. When it comes to ensuring the utmost strength, durability, and performance, Miller Products Company's Grade 8 Lock Pins stand above the competition. With their exceptional strength, enhanced safety features, precise engineering, cost-effectiveness, and customizable options, these lock pins offer an unbeatable solution for your applications.
Miller Products Company to provide the highest quality pins and fasteners that will unlock the full potential of your equipment.
You can view their online catalog through at www.MillerProductsCo.com, contact their knowledgeable support team at sales@millerproductsco.com or by calling 800-245-7034 to learn more about Grade 8 finished Lock Pins and how they can benefit your operations.