Associate Spotlight - Miller Products Welcomes New Sales & Customer Service Specialist
In her position as Miller's Sales and Customer Service Specialist, Deb Jaeger is looking forward to the exciting new challenges on her path.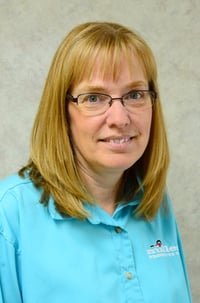 Originally from Marshalltown, Deb moved from Lamoni to Osceola with her son and daughter four years ago. She spent eight years working for the Clarke County ISU Extension and Outreach program as their office assistant and bookkeeper. The position offered her a chance to interact with the public, solving problems and answering questions. She brings her extensive customer service skills to the team at Miller and hopes to provide that same enthusiasm and helpful nature in her new position.
"Miller runs quite the operation here, with their impressive history and loyal customer base," Yeager said. "I'm still working on learning all the parts, but I'm eager to get to know our customers and continue to provide them the customer service they expect from Miller."
Deb is filling the position left after the retirement of long-time customer service specialist Vickie Binning, with her main duties consisting of entering orders, processing packing slips, and assisting customers through reorders and answering questions. She welcomes the challenges ahead of her and hopes to continue the stellar reputation of Miller customer service.
Be sure to say hello when you see Deb out in Osceola and join Miller Products Co. in welcoming her to the Miller family.