The Heavy Duty Hitch Pin - Miller's Heavy Hitter
When you're looking for the very best manufactured lock pins and hitch pins, Miller Products Company can meet all your needs. No matter if it's for construction scaffolding, DIY projects, or lawn and farming equipment, Miller Products can create the right part to meet your specifications. One of the toughest but lesser-known powerhouse Miller products is the heavy duty hitch pin.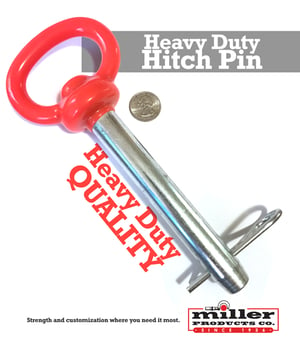 Over the last 50 years, the Miller team has been at the forefront of the manufacturing industry for CNC machining and custom CNC machined products. Top sellers include our Grade 8 Lock Pin and our corrosion-resistant pins. But when your work calls for parts built tough for repeated use, ask the Miller team about our Heavy Duty Hitch Pins.
Made from 1144 Stressproof Steel, the heavy duty hitch pin is partially hardened and has a higher tensile strength than mild steel making it perfect for all your towing needs. This pin is customizable in both diameter and length with a standard sized coated handle for ease of repeated use. With a fixed handle and made of American Steel, the solid-form heavy duty hitch pin is strong enough to stand up to your harshest challenges.
Some of the top uses to showcase the strength of Miller's heavy duty hitch pin include:
Ag Tractors and wagons
Airport luggage carts
Trailers and Tow-behinds
The experienced crew at Miller Products Company is ready to listen to your parts needs and provide custom options to get the job done. With top-of-the-line CNC machining equipment, and extensive catalog of stock pins and fasteners, and a commitment to their customers, you can rely on Miller Products Company to be your single source supplier for precision turned, milled, and screw-machined products.
If you're looking for a quality, customizable hitch pin that will be strong enough to do the job, click on the "request a quote" button below or reach out to Kerry Richardson, Sales and Marketing Manager for Miller Products at 800-245-7034 or email sales@millerproductsco.com.