Kicking Off A Promising New Year At Miller Products Company
The start of a new year is always filled with hope and optimism for the coming months. At the start of 2021, there is also a sense of relief that the wild and unpredictable 2020 is finally behind us. Although they were faced with unique challenges, Miller Products Company made some strategic changes to continue serving their customers through it all. Now they're ready to hit the ground running for a promising 2021.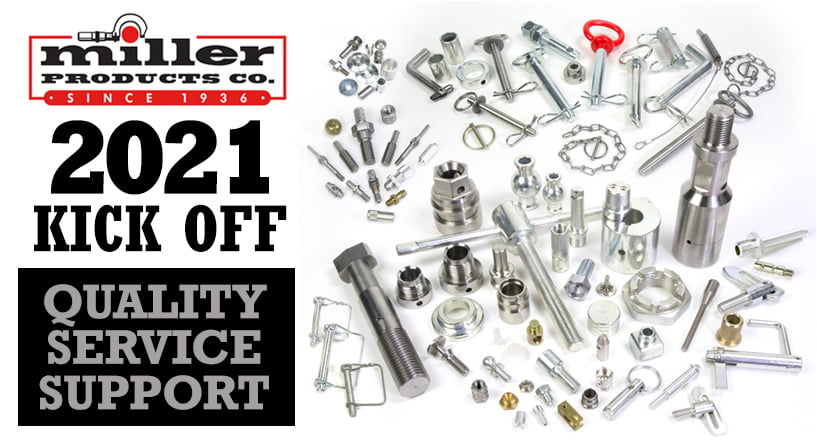 During the last week of January, the new Administration took steps to strengthen the American manufacturing sector. The 'Made in America' executive order ensures that when the federal government spends taxpayer dollars, they are spent on American-made goods, by American workers, with American-made component parts. This is excellent news for Miller Products, with a long history of using only American steel when fabricating parts for their CNC and Swiss CNC machining products. With international shipping and receiving taken out of the equation, Miller is able to consistently meet demand.
When COVID-19 first hit the US, Miller adapted to protect not only their customers, but their employees, as well. They used the slow down to replenish and increase their supply of stock pins and fasteners. Then, when agricultural manufacturing, medical manufacturing, construction, and military manufacturing picked up again over the summer, Miller Products Company was ready to meet supply demands for current and new customers.
"Early on, people started pulling from their stock, in a move for security and stability," said Kerry Miller, Sales and Marketing Manager at Miller Products Company. "When the manufacturing saw a big uptick and people realized their stock was depleted, we were happy to be in a position to replenish supply and support American manufacturing."
In the fall, Miller purchased a Ganesh SL42 Y2 Swiss CNC lathe for more complex, custom CNC machined parts, plus a Ganesh SL32 CS series that added to the CNC capacity for the entire plant. Looking forward to the new year, with their increased capacity for custom CNC and Swiss CNC machined parts, Miller Products Company will be making staff changes to meet increased demand for their quality materials and craftsmanship. Because of their expanded capabilities, stock orders see a quick turnaround of 3 weeks or better, and manufacturers know they'll be getting top-of-the-line American-made and American-sourced custom fabricated parts.
The sales and support team at Miller Products Company is prepared to talk with you over ZOOM or via phone at 1-800-245-7034. Customers also have the option to schedule a meeting Kerry Richardson, the Sales and Marketing Manager, through the link below.
Together, we can keep America's great manufacturing industry running and thriving. We look forward to doing business with you.
Have a unique, Swiss CNC machined product you'd like pricing on?